Cold Pressed Flax Seed Oil is the richest plant source of omega-3 fatty acids, protein, fiber, antioxidants magnesium, Vitamin B and copper. The oils benefits have been associated with decreasing inflammation, enhancing hair growth and also improving brain and heart function.
The oil is made from pressing linseed in cold press machine. The pressure exerted by the machine extracts the oil from the seeds. The oil extracted is 100% pure, natural and can be ingested. No bleach or chemicals have been added to this product.
It has a limited shelf life of 6 months. Once opened be sure to refrigerate it to extend shelf life and prevent it from going rancid.
Quick Facts About Cold Pressed Flax Seed Oil
Boosts Heart Health –  Cold Pressed Flax seed oil is rich in alpha-linolenic acid like that may aid in treating heart disease.
Relieves Constipation – The oil benefits the digestive system by lining the colon and relieving constipation.
Fights Cancer – Research has shown that apha linoleic acid found in the oil helps reduce breast cancer growth.
Reduces Eczema – Fatty acids and vitamins present in the oil help to nourish dry and itchy skin.
Weight Loss – It is a natural laxative as it helps the body get rid of waste quickly thereby detoxing the body and help in reducing excess weight.
Cellulite Reduction – Ingesting it can help increase collagen production in the body which helps in concealing irregularities in the skin.
Treats Sjogren's Syndrome – Ingesting flax seed oil can help reduce dryness and itchiness of eyes associated with sjogren's syndrome.
Nutritional Value of the Oil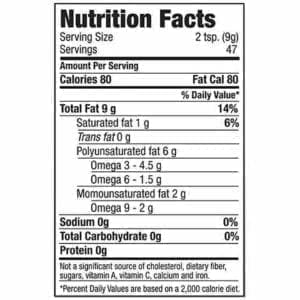 For Skin Care Purposes:
Linoleic acid– 17%
Linolenic acid– 59%
Oleic acid– 15%
Comedogenic Rating– 4
As one of nature's richest sources of essential fatty acids, flax seed oil is high in omega-3, lignans, vitamins, and minerals. Most skin types will not be able to tolerate this oil, especially acne prone skin. However, ingesting this oil is a fabulous way to moisturize the skin from the inside out.
How To Use Cold Pressed Flax Seed Oil
For Ingestion:  You can add 1 tablespoon of cold pressed flax seed oil in salad dressings, sauces, protein shakes and smoothies. Can even add 1 tsp on top of prepared food or simply ingest it directly.
For skin: It is not recommended for MOST skin types as it has a comedogenic oil rating of 4 and can clog the pores but if your skin can tolerate it then apply in modest amounts.
CAUTION: Although you can cook with whole flax seeds and flax seed meal but using the oil for cooking purposes is not recommended as it contains healthy fatty acids that could become harmful once heated.