Description
Apple Cider vinegar is known to fight harmful bacteria, lower blood sugar, fight diabetes, reduce the risk of heart disease and help in weight reduction.
The vinegar is made by crushing apples and converting it into liquid form. Bacteria and yeast are added to the liquid to start fermentation process. After stages of fermentation the liquid turns in to vinegar. This product is raw and unfiltered and completely natural. There are no additives or chemicals added to it.
Quick facts on Apple Cider Vinegar
Regulates Blood sugar levels – Apple cider vinegar contains properties that helps regulate sugar levels in blood.
Enhances weight loss – Studies show that having vinegar can keep you satiated. As a result, It helps in shedding a few extra pounds and boosting metabolism.
Lowers Cholesterol – It can help reduce triglycerides, cholesterol and blood pressure in the body which can lead to maintaining a healthy heart and reduction of heart disease.
Improves skin health – Lactic acid in the vinegar helps reduce acne, scars and blemishes leaving the skin supple.
Relieves acid reflux symptoms – Drinking apple cider vinegar can help with acid reflux as it can increase acid in the digestive tract and minimize the acid back flow.
Aids in detoxification – The antioxidants in apple cider vinegar will help balance PH and promote blood circulation.
Relieves the Cold and Flu – The beneficial bacteria in this vinegar can help kick start metabolism and build immunity to fight diseases.
Balances Your pH – The acetic acid in this vinegar alkalizes the body and balances your ph for optimum body function.
Nutritional Value of Apple Cider Vinegar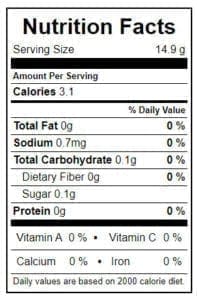 1 Tablespoon of Apple Cider Vinegar contains:
3.1 Calories
Calories from Fat 0.
Total Fat 0 g.
Saturated Fat 0 g.
Cholesterol 0 mg.
Sodium 0.8 mg.
Potassium 11 mg.
Total Carbohydrates 0.1 g.
How to Use Apple Cider Vinegar?
Apple cider vinegar can be used to remove blemishes and dark spots. You can dilute a few drops of the vinegar with some water on a cotton pad and apply to the blemish. Repeat this process for a few weeks and you will start to notice the blemishes and spots lighten.
For weight loss, you may take 1 tablespoon of apple cider and mix it with one glass of luke warm water. Drink the liquid before every meal to help boost metabolism and shed weight. Mixing vinegar in a glass of water can also control blood pressure and diabetes.
To make an all purpose cleaner that you can use at home. Mix apple cider vinegar in equal parts with water and add a few drops of lemon oil or lemon juice.
For shinier and healthier hair, pour 1/3 cup of apple cider vinegar on your wet hair in the shower and massage. Leave it on for 5 minutes and then rinse off. This will detangle and add volume to your hair.
To add flavor to salads and food you may use it sparingly on salad dressings, vinaigrettes, achaars, pickling etc.
Add to Cart